Dr. Frederick Cook as Ethnologist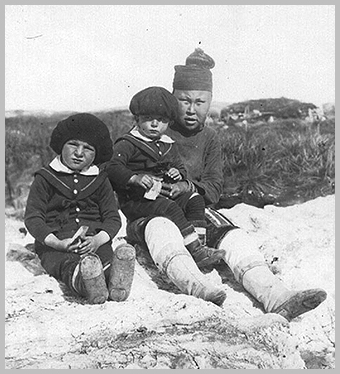 At the age of 25, Cook was enthralled by accounts of polar expeditions chronicled in The New York Herald. Elisha Kent Kane, an American physician who had survived a succession of brutal winters encased in Arctic ice, was of particular interest to him. Cook, too, was a physician. However, his practice in Manhattan wasn't particularly successful and he was still grieving for his wife Libby who had died from complications following childbirth in 1890. The couple's infant daughter had died, as well. A desire to travel far away pulled at him and, as he put it "there developed a longing to get out over the world into the unknown to blaze the trail for a life of useful adventure."
In early 1891, Cook saw a notice in a newspaper datelined Philadelphia that would change his life forever. A naval engineer named Robert E. Peary was looking for volunteers for an expedition to the northern limits of Greenland far above the Arctic Circle. The expedition was bound to enter the Kane Basin and, if successful, travel further north into the unknown.
He sent an application to Peary in Philadelphia and, a few weeks later, met with the engineer. Although he had never been outside of New York before and had no experience in extremely harsh polar conditions, he secured a position as the expedition's surgeon and ethnologist.
It is sadly ironic that his first experience in northern polar regions was due to the efforts of the man who was to become his bitter rival fifteen years later for the claim to be the first man to reach the North Pole. But, for now, they were comrades who depended on each other as they embarked on a perilous journey. Peary's wife Josephine and four other men accompanied them. On June June 6, 1891 the aging steam powered barkentine named the  S.S. Kite left Brooklyn, New York and reached Melville Bay, around latitude 76o North, in early July. The Kane Basin, named after Cook's exemplar, beckoned far to the north. See map of the region.

It was on July 11, 1891 that Cook was first introduced introduced the harsh realities of Arctic life. The rudder of the Kite was battered by a piece of pack ice, whipping the iron tiller into Peary's right leg, crushing it against the deckhouse. Peary screamed in agony. Cook went to work setting Peary's shattered bones, splinting and fashioning a cast for them. He also fashioned a pair of crutches for the captain.
The Inuit of North Greenland
All members of the expedition, including Peary, were unprepared for the difficulty of life in the frigid conditions of Greenland.  According to Dr. Cook's memoir, "we went through the first Arctic night with the usual half insane mentality of novices.  In our stupid stages of unpreparedness, we lived as brothers with the savages.  As the twilight of the long night returned, we were equipped for the task at hand…. Peary's sublime courage saved the day.  In returning, all resolved never to venture into the Arctic again."
Of course, this statement proved to be untrue, as Cook would venture into the cold regions of the Arctic and Antarctic numerous times over the course of his exploring career. In 1893 and 1894, Cook organized his own expeditions to Greenland, "…in which the main purpose was to offer facilities to college professors and students for a vacation of study and research in the little known Arctic…" 3
3 Cook's memoirs
CLICK TO THE LEFT OR RIGHT SIDE OF FRAME IF SLIDESHOW IS NOT WORKING
© The Frederick Cook Society | 2022
Sullivan County Museum
247 Main Street, Hurleyville, NY 12747

Mailing Address:
P.O. Box 247. Hurleyville, NY 12747
Site design by Roger Dowd Design